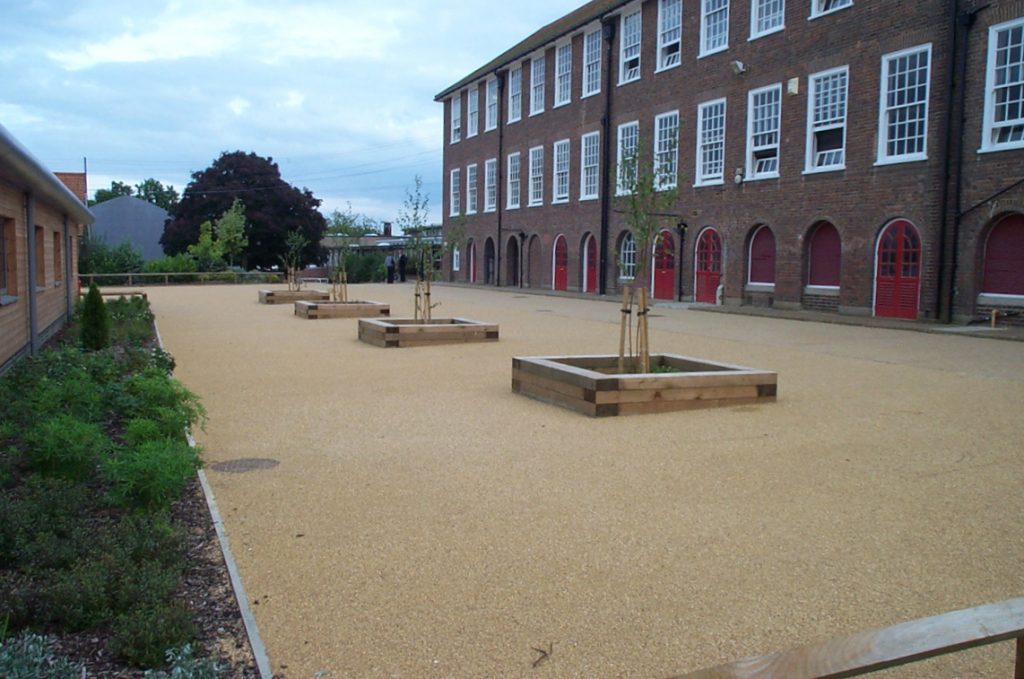 Have you been looking for companies who specialise in permeable resin bound paving? Look no further because we are Gaysha Surfaces, and we are a team of highly experienced professionals who have had over 15 years of experience in the trade and can offer you a tailored service for your permeable resin bound paving. Not only does resin bound paving have aesthetic advantages, but it is also a durable alternative to standard paving. If you have been looking for permeable resin bound paving specialists, contact Gaysha Surface today.
With the resin paving industry growing at a fast rate and becoming increasingly popular, permeable resin bound paving is a fantastic sustainable option. It is produced using natural and recycled materials and our main ranges are made from either natural aggregate or recycled glass. Permeable resin bound paving is hard wearing and resistant to effects such as weathering, degradation and UV radiations that may break down tarmac, block paving or concrete. Our team have complete knowledge of all of our products because we design, formulate and manufacture our own resin bound paving and surface dressings.
Our permeable resin bound paving is popular because it requires minimal maintenance and eliminated trip hazards with loose stone. This makes it a popular choice when repaving school playgrounds, driveways and regeneration projects such as community areas and parks. After many years of specialising in permeable resin bound paving, we now work closely with architects, designers and the local authorities, who all take advantage of our unique range of products. We have a wide range of different blends so you can have choice when picking your permeable resin bound paving which will always be covered with our 10 year guarantee.
Client satisfaction is of paramount importance to us and all of our jobs are completed to the highest of standards. We aim to exceed customer expectations and leave our customers completely happy with the service they have received for their permeable resin bound paving.
For more information on permeable resin bound paving, call our team on 01322 340350 or send us an email at info@gaysha.co.uk and a member of our team will get back to you shortly.